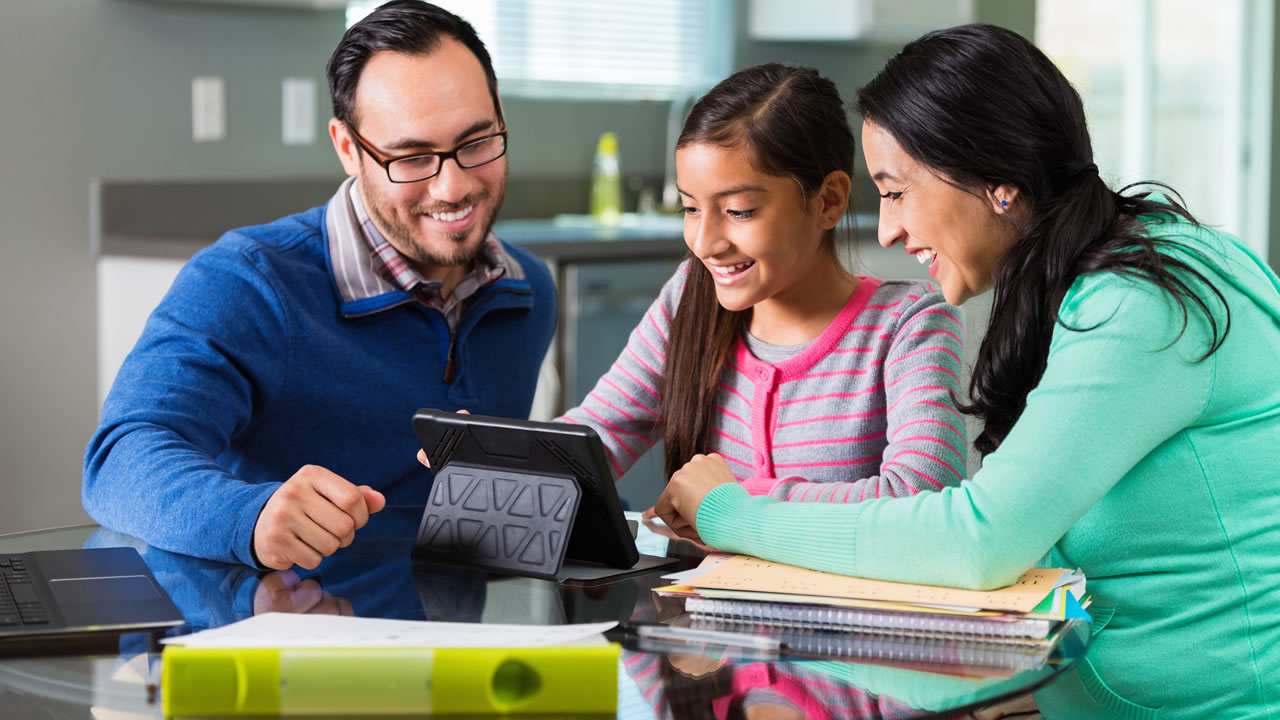 Where Your Money Goes
How we have put your generously donated funds to work.
FoolProof, on a very small budget, works quickly and efficiently—and our projects have reach.
The result: donor dollars go far!
For instance, in the past years we've completed these groundbreaking initiatives—all thanks to generous donations by organizations and individuals.
Our Programs (Continuous)
Your donations have enabled us to deliver our content to users of all ages for free. Helping them develop critical thinking skills and become healthy skeptics when it comes to their money and welfare.
FoolProof for Schools
Last school year alone, 50,000 students have been able to work through FoolProof.
Over 1400 teachers use the FoolProof curriculum for free, thanks to the FoolProof Foundation.
FoolProofMe.org
In the past 12 months 268,000 visitors have used FoolProofMe.org on 557,000 occasions to get access to FoolProof's articles, videos, buying guides and educational programs.
FoolProof en Español: Phase 1 (2018/2019)
Nearly 4 million public school students in the United States speak and think primarily in Spanish. Many of these students are in underserved communities nationwide. These young people are most likely to be injured by poor financial decisions.
Through your donations, these students now have access to FoolProof's Financial Literacy High School Curriculum. All in their native language.
The entire project took about 3 quarters to complete, and was finished right under the projected $60,000 budget.
Future developments will include teacher resources, essays, activities, and the middle school curriculum all in Spanish.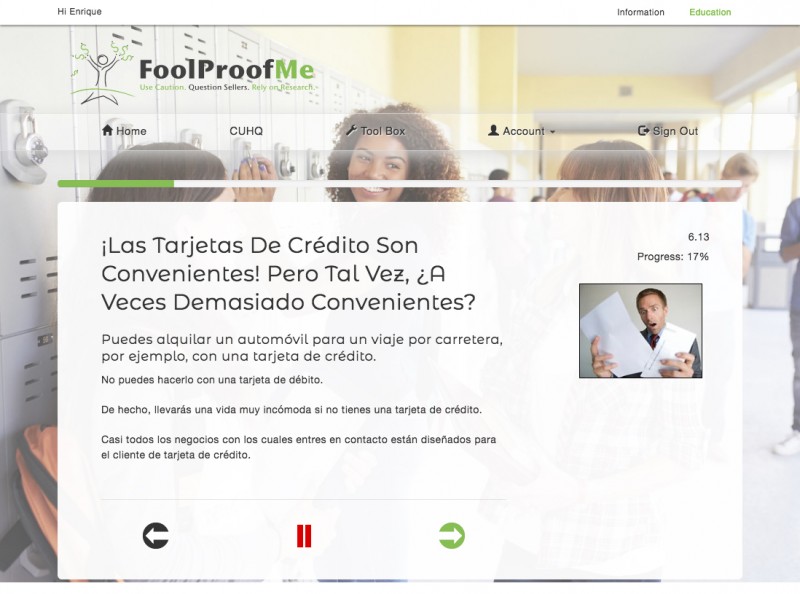 FoolProof for Parents (2018)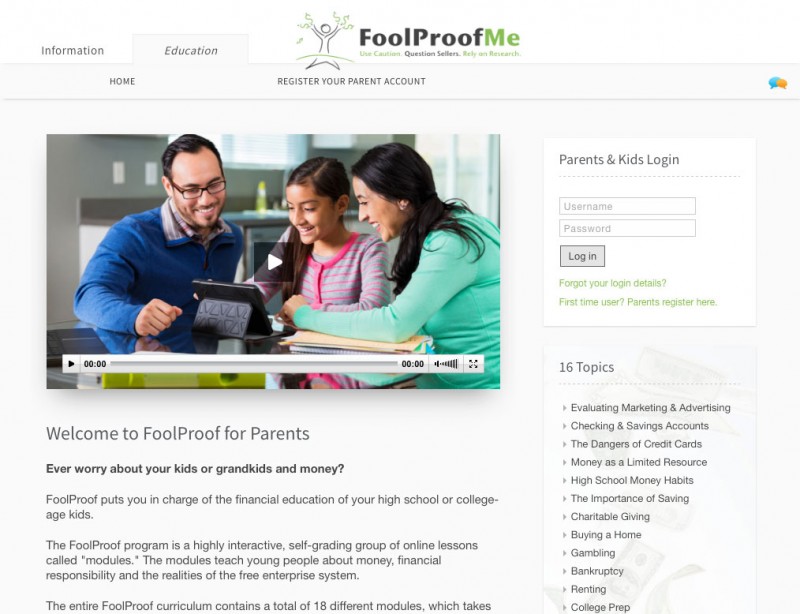 Thanks to your generous donations we were able to expand our FoolProof for Parents program with great new features and 10 new Modules. Adding topics like 'Renting your first apartment', 'Home buying', 'Taxes' and 'Retirement' prepare your kids for big life events they will encounter.
Giving them the knowledge and teaching them to use caution, question sellers and do their research will make them smarter consumers with a big dose of healthy skepticism.
FoolProof Middle School (2017)
The FoolProof Foundation's Walter Cronkite Project developed and launched the first scalable middle-school financial literacy curriculum created by child advocates and teachers, not marketers.
The curriculum is a first of its kind and teaches students the power of skepticism and how to neutralize misinformation. Students do all the teaching.
Our middle-school curriculum contains 9 interactive modules and over 50 videos.
The entire project was completed in under four years for $125,000, and thanks to the help of volunteer work of teachers and child advocates.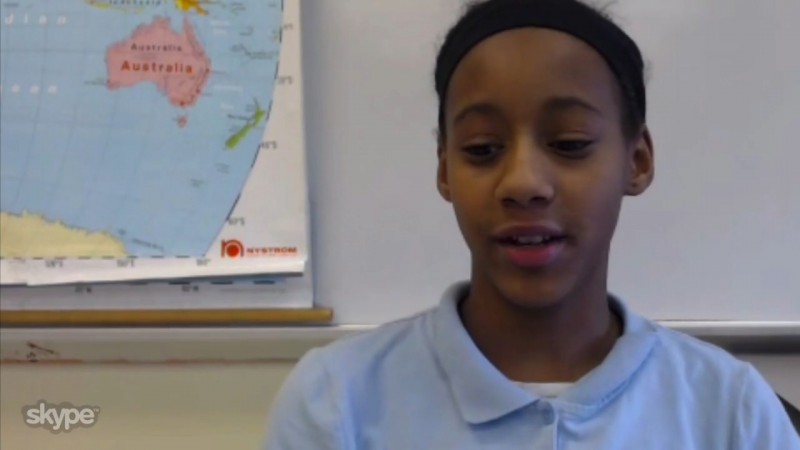 What do Students Think?
Listen to what middle school students from the Ariel Community Academy have to say about our middle school curriculum.
Student Loan Guide (2017)
College can be important to a person's whole life. And student loans do make college happen for a lot of people. But for millions of people, student loans are a complicated mess that have placed a massive amount of debt on their lives, for decades.
FoolProof developed a first-of-its-kind and extensive student loan guide to help consumers of all ages in 6 different areas:
Six Important Areas
Before you go to college: planning college financing using minimal student loans.
Managing your financial aid while you are in school.
Managing student loans for the soon-to-be or new graduate.
Creating a better plan for managing student loans as you pay down debt.
Managing student loans if you are struggling to pay.
Parents: financing your child's college education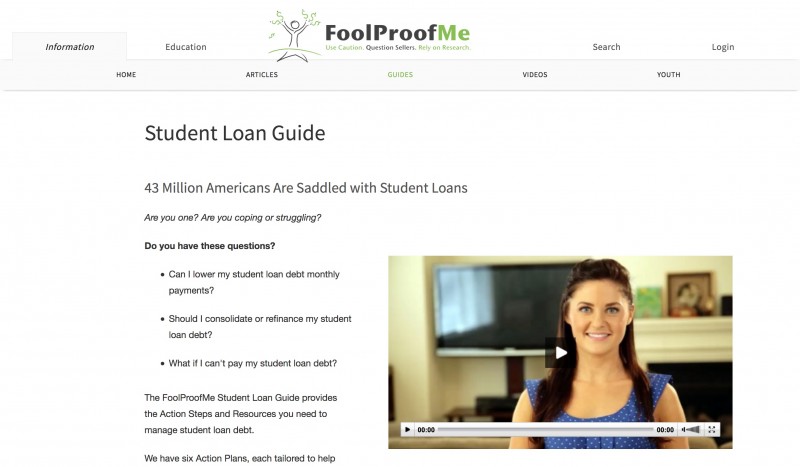 Our guide is simple, and puts the student (or parent) in control of the student loan situation.
FoolProof reached out to many student loan experts nationwide in development of this guide, who all kindly donated their time. The research was all written up by Dr. Mary Abbott Waite, who donated large parts of her time to make this guide possible. FoolProof paid for the rest of the $25,000 development cost through donations by educational enthusiasts.
FoolProofMe.org (2015 to present)
FoolProofMe.org is our real-time consumer resource for adults. It features articles, videos and breaking news on consumer related topics, and is updated constantly by a variety of consumer advocates on a (at least) bi-weekly basis. Additionally, the portal features an extensive consumer car-buying guide (after Remar Sutton's best-selling book, "Don't get taken every time.") and a first-of-its-kind and extensive student loan guide.
The Foundation pays for the content development and updates through the generous support of our community partners.
High School Enhancements (Continuous)
FoolProof is always updating our resources. Based on teacher and student feedback that we receive throughout the (school) year, we update our program content and user tools during every summer vacation.
Here's a brief summary of the last few summer updates:
We added new content to keep students abreast of changes in the financial and technological arenas. We updated around 30 videos and added 20 new ones. Additionally, we added 16 individual research/essay Assignments and 16 group Activities that supplement our modules.
Many teacher tools were added, including improved workflow management controls, an assignment feedback system, a classroom/student instruction system, and smart-board teaching option.
Funds for these continuous updates mainly come through volunteer work of teachers and child advocates, as well as regular donations. Yearly updates cost about $25,000, plus additional features and includes content research and development and software development.
Over the past several years, Teacher Support Requests have reflected a growing need for making FoolProof accessible to students who are hearing impaired.
Thanks to $15,000 in donations we were able to provide closed-captioning on all of our educational content.
We were also able to translate all our spoken video and interactive features to text for screen readers.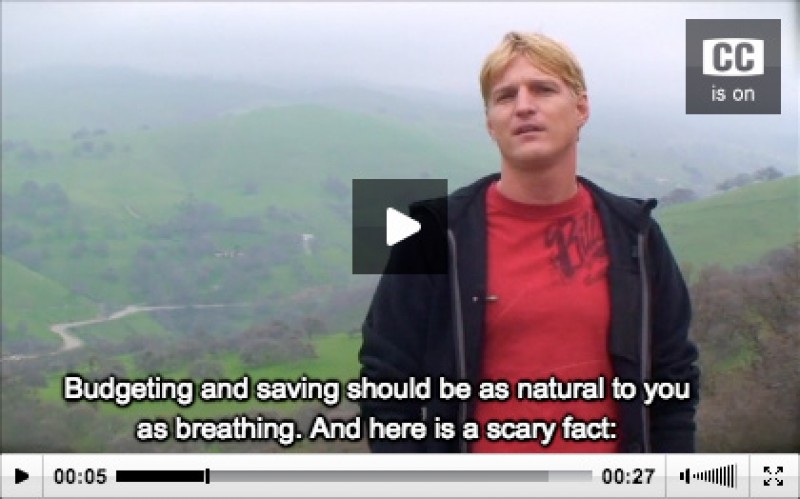 How Can You Help the FoolProof Foundation?
The FoolProof Foundation is currently seeking volunteers, major donations, and foundation partnerships to help us in funding our work. Please consider becoming involved and supporting ethical and effective financial literacy education across America.
The financial industry invests tens of millions to influence financial literacy messaging. FoolProof will not accept funding from any groups or individuals who might seek to influence our messaging. Our funding comes only from partnerships, donations, and grants from those who believe in our mission. FoolProof relies on these partnerships and charitable donations in order to ensure that our resources remain ethical, free and unbiased.
The FoolProof Foundation is a 501(c)(3) private operating foundation, and as such, all gifts to the foundation are entitled to a charitable tax-deduction to the extent allowable by law. The FoolProof Foundation employs best practices to ensure our fiduciary responsibility and maintains use of donor funds in accordance with Generally Accepted Accounting Principles for Nonprofits.