FoolProofMe.org is a free, online consumer news website geared at consumers of all ages. The portal has a strong "keep your money in your pocket" focus and offers a variety of topics in an "on demand" format.
Extensive buying and consumer guides
Dozens of educational videos
In-depth articles
Consumer breaking news as it happens
Special projects
FoolProofMe.org Also Teaches Consumer Skills
Evaluation of marketing materials
Controlling your budget
Getting the best price for products & services
Proper use of emerging banking technologies
Avoiding scams
Protecting your privacy
Additionally, FoolProofMe.org features topics aimed at millennials, peer-to-peer messaging included:
"Wedding on a budget"
The internet's most extensive and user-friendly student loan web resource (before, during and after college) [Goes live October 30].
First-time car-buying
Why FoolProofMe.org?
Along with the FoolProof mantra (use caution, question sellers, rely on research), we believe that consumers need trustworthy information in order to make better decisions with their money and to have a greater chance to excel in life. We know that the financial health of the consumer directly impacts the financial health of the economy.
FoolProofMe.org is a safe harbor from all the clutter of scams and hyperbole out there, and also commercial-free.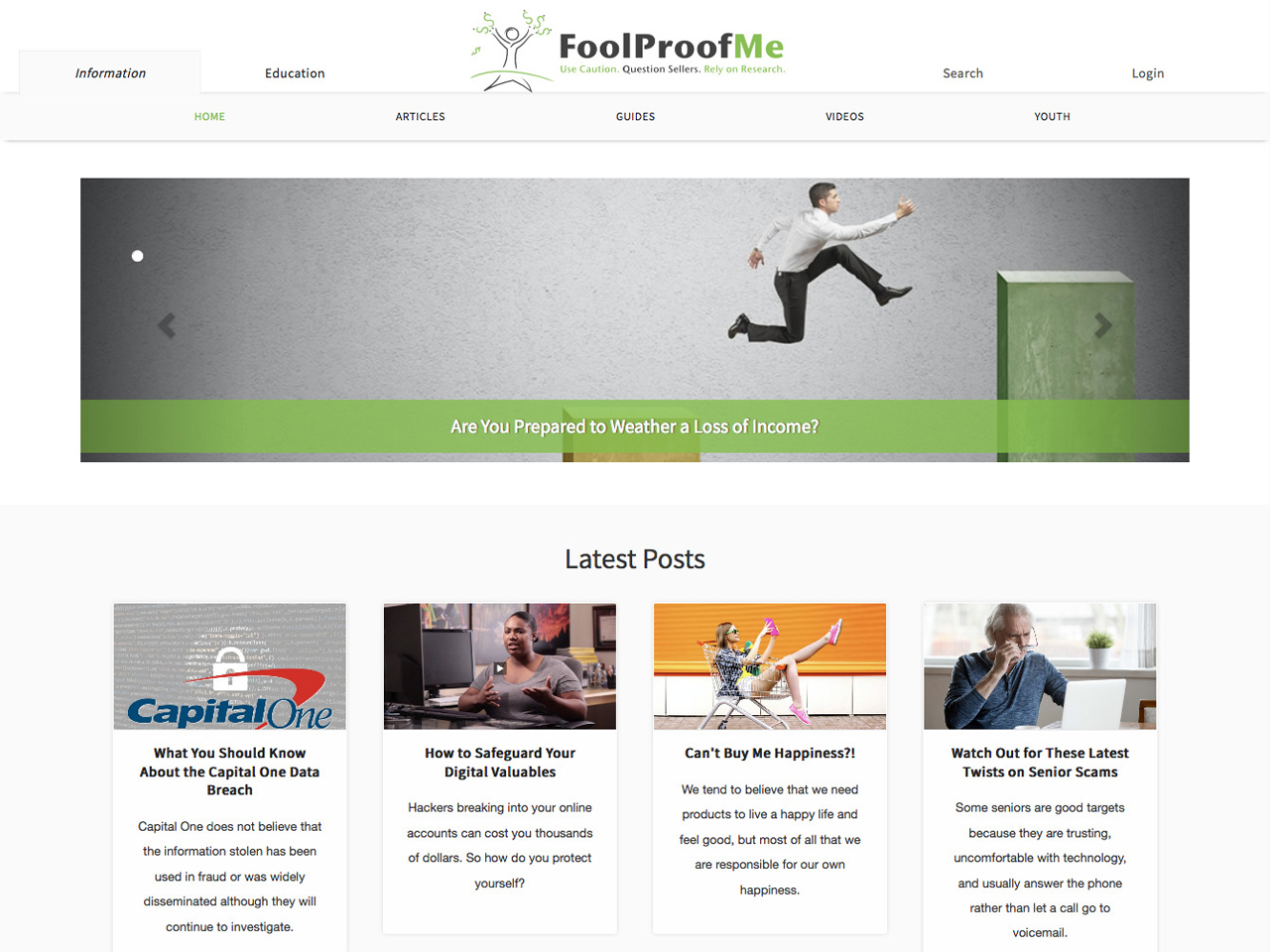 What Has FoolProofMe.org Accomplished So Far?
We have built a super-database with a wealth of financial and consumer topics, all available on-demand.
Just via word of mouth, our FoolProofMe.org portal gets 11,000 unique visits every month, and over 150,000 page views.
Your website is wonderful. I can't thank you enough.

I'm also going through FoolPoof Solo as is my daughter and it has maintained her interest — a task I could never have accomplished! My insurance company USAA recommended you. What a blessing for me.

Best wishes,
How Can You Help FoolProofMe.org?
Creating meaningful financial and consumer information is an extensive and time-consuming task. Our team works hard for provide consumers trustworthy information.
We would appreciate your help:
Providing or finding funds to support our work.
Spreading the good word about FoolProofMe.org.
Lastly, we would like your input on topics that matter to you. You bring in the ideas; we'll develop the education!
How Can You Help the FoolProof Foundation?
The FoolProof Foundation is currently seeking volunteers, major donations, and foundation partnerships to help us in funding our work. Please consider becoming involved and supporting ethical and effective financial literacy education across America.
The financial industry invests tens of millions to influence financial literacy messaging. FoolProof will not accept funding from any groups or individuals who might seek to influence our messaging. Our funding comes only from partnerships, donations, and grants from those who believe in our mission. FoolProof relies on these partnerships and charitable donations in order to ensure that our resources remain ethical, free and unbiased.
The FoolProof Foundation is a 501(c)(3) private operating foundation, and as such, all gifts to the foundation are entitled to a charitable tax-deduction to the extent allowable by law. The FoolProof Foundation employs best practices to ensure our fiduciary responsibility and maintains use of donor funds in accordance with Generally Accepted Accounting Principles for Nonprofits.