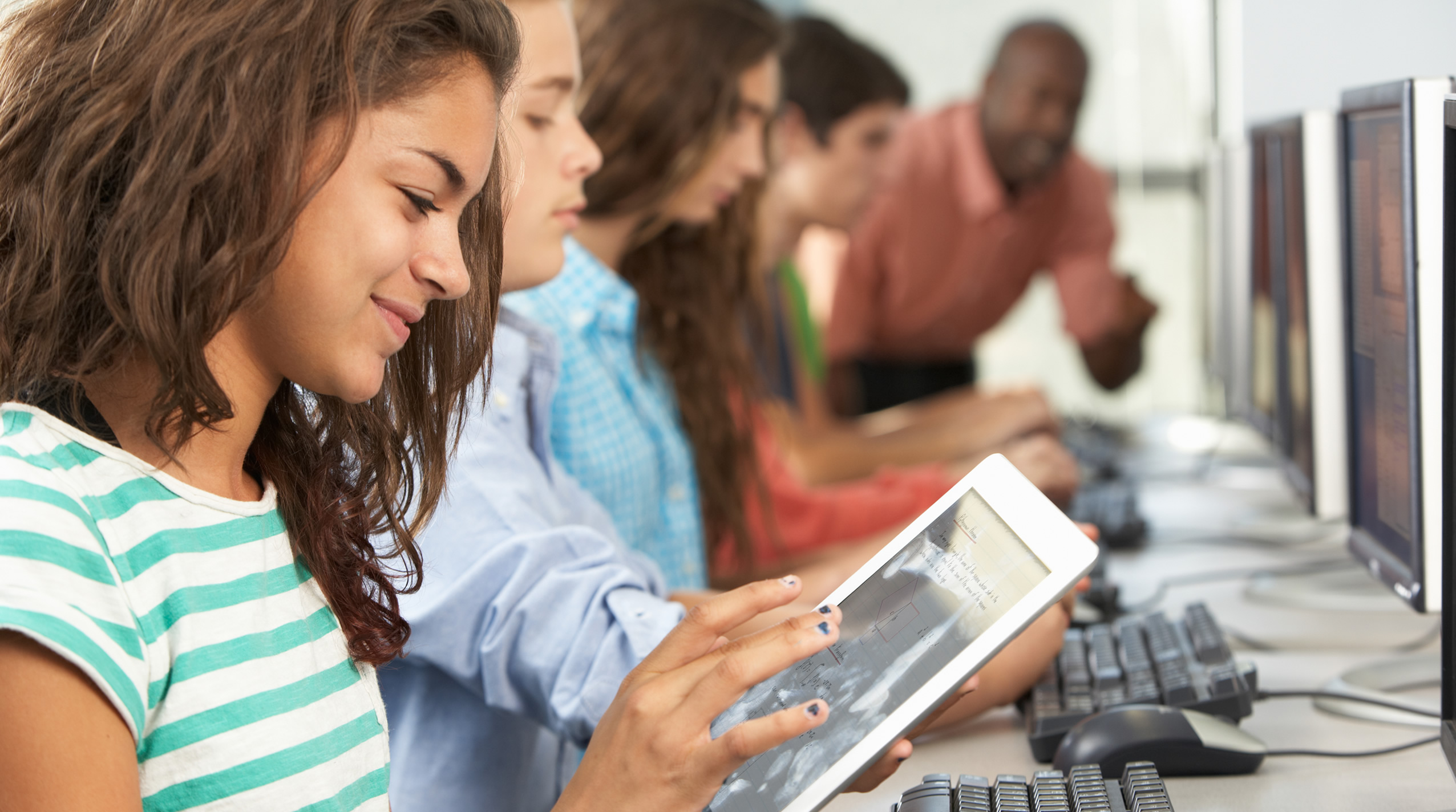 The problem: Many teachers, for lack of an alternative, are forced to use financial literacy curriculums shaped by marketers rather than educators.
One solution: FoolProof for Schools. We provide a curriculum that focuses on teaching young people consumer life skills, not just rote financial skills. Free, for all teachers.
More than money skills: FoolProof focuses on issues that impact young peoples' money or their welfare.
Based on the power of thinking, not just reacting: FoolProof's curriculum is based on the importance of healthy skepticism: questioning advertising; resisting impulse buying; understanding the dangers of the web, and understanding the importance of protecting personal information.
Our resources are free, and advocate only for the student.
"FoolProof teaches what students need to know."
We hear that a lot from teachers.
Separate, age-appropriate resources for both middle and high school teachers. Psychologists and consumer advocates helped develop and test our messaging — one reason FoolProof is the only web-driven curriculum in the world endorsed by Fairplay.
Easy on the teacher and the student: Our curriculum is web-driven, highly interactive, and self-grading.
Students register themselves with a class code and can stop and resume the lessons at any time. Teachers can monitor an individual student or an entire class from any online device.
Thank you, thank you, thank you for providing FoolProof in such a free and easy format to use! I believe this program has had a very positive impact on our school and for several students moving forward in life.
Modular: The lessons are called "modules." They're highly interactive, video-driven and feature peer-to-peer teaching only.
28 different modules. All modules empower students to think. "You can determine who you're going to be" is an important message embedded in the modules.
Additional student resources: We include 16 additional assignments that help students hone their critical thinking skills.
Group activities: We also provide 16 additional group activities that help students demonstrate their newly gained knowledge in a group setting.
A comprehensive, rigorous resource: Teachers have access to a full semester of materials.
Use one topic, or all topics: A teacher can use one, choose a few, or choose all topics for maximum flexibility.
Stop and start: Students can stop and resume the modules at any time and work on any device with web access.
Why FoolProof for Schools?
Bad money decisions can haunt a young person for a lifetime. Millions of young people do harm to their futures by making preventable money mistakes early in life. For instance, many businesses that hire minimum-wage hourly workers will not hire those with serious credit problems.
College graduates and other adults with serious credit problems are passed over for jobs or promotions, settled with debt for decades, and are unable to become homeowners.
The underserved are hit hardest by poor money decisions.
For many young people, working through our FoolProof for Schools curriculum is their last chance to prepare themselves for the realities of the full-time work environment and the free enterprise system. That's why entire school systems nationally have required all students to complete FoolProof's curriculum to graduate.
What Has FoolProof for Schools Accomplished So Far?
We thank our teachers for the dramatic growth in the use of our curriculum. In the past 5 years FoolProof for Schools has brought meaningful financial literacy instruction to over 440,000 students nationwide at 9,000+ schools. More than 8,600 educators in over 15% of the nation's financial literacy classes have used our curriculum.
Here's a brief overview of the great '21-'22 school year:
Over 70,000 new students worked through the high school program.
More than 1,400 new teachers joined the FoolProof team.
FoolProof students:
Made close to 36 million page views.
Used the program on almost 1.2 million occasions.
Completed 610,000 Components graded by FoolProof for the teachers.
FoolProof for Schools growing rapidly
What Our Users Think
Students find FoolProof very valuable. These statistics come from about 190,000 surveys submitted by students who worked through our high school curriculum:
79% found FoolProof info easy to understand
85% said FoolProof would help friends in school
86% said they would work through another FoolProof session (in their own time!)
The students really love your online course. We are very grateful for your offering of this Financial Literacy coursework. The students were engaged, worked well collaboratively and independently, and really learned a lot about the way our free enterprise system works. Based on conversations with them, I know my students will make much smarter choices about how to manage money as they head off to college and careers. They are much better prepared for their financial futures. Thank You!
And students actually change their behavior and increase their knowledge after completing FoolProof's curriculum.
Below you'll find results of over 2.1 million pre- and posttests taken. Test comparison is a measurement of personal finance literacy, based on personal finance topics as taught in the Modules.
Pre-test: 51% average score
Post-test: 85% average score
A 34% increase in score on the pre- and post-test is an indicator that the FoolProof curriculum indeed increases a student's personal finance knowledge, and that it is an effective curriculum for students.
How Can You Help FoolProof's High School Curriculum?
Explore this site and our mission and you'll agree the teaching of financial literacy skills must be accomplished independently from any commercial interests. FoolProof has the proven track record, teaching methodologies, and skills to tackle this issue now.
Can FoolProof compete against the big-business financial literacy systems? Yes we can. In states where we arrived first, and arrived with the proper support, we are the hands-down favorite of teachers.
With your support we will succeed in our mission.
We need to reach high schools in a timely manner. With your support we can reach high school teachers with our curriculum before agenda-driven curriculums become entrenched.
The race to educate high-school-age students is usually a "winner takes all" race: the financial literacy program that gets to teachers first generally becomes the default program for that teacher for years.
FoolProof is seeking additional funding for our high school curriculum to continue to win the race for the minds of young students.
How Can You Help the FoolProof Foundation?
The FoolProof Foundation is currently seeking volunteers, major donations, and foundation partnerships to help us in funding our work. Please consider becoming involved and supporting ethical and effective financial literacy education across America.
The financial industry invests tens of millions to influence financial literacy messaging. FoolProof will not accept funding from any groups or individuals who might seek to influence our messaging. Our funding comes only from partnerships, donations, and grants from those who believe in our mission. FoolProof relies on these partnerships and charitable donations in order to ensure that our resources remain ethical, free and unbiased.
The FoolProof Foundation is a 501(c)(3) private operating foundation, and as such, all gifts to the foundation are entitled to a charitable tax-deduction to the extent allowable by law. The FoolProof Foundation employs best practices to ensure our fiduciary responsibility and maintains use of donor funds in accordance with Generally Accepted Accounting Principles for Nonprofits.